Nourishing Summer Treatment for Your Lawn
Looking to keep your lawn green and healthy throughout the summertime?

Lawn & Weed Expert can provide a specially-designed bespoke summer lawn care treatment programme to make sure your grass continues to grow healthily during the warmer months.

Our bespoke summer lawn treatment services are available throughout South Wales, including Cardiff, Newport, and Swansea.
Our summer lawn treatments include:
Application of slow-release, no-scorch fertiliser
Application of broad-spectrum systemic liquid herbicide to control common weeds
For our summer lawn feed, we change the balance of nutrients to increase phosphorous and potassium and decrease the nitrogen content as the demands of the grass plant change.

There are enough nutrients in the summer fertiliser to nourish your grass for up to 10-13 weeks.

Our summer lawn fertilisers have a controlled, slow release and do not have to be watered in. This means your lawn will be nourished for weeks without you needing to worry!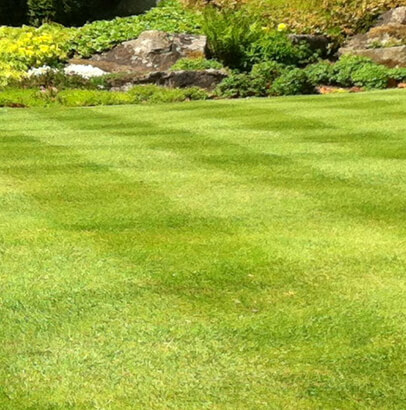 Summer Lawn Care Tips
Keep your lawn healthy during the hot, dry UK summer months with our summer lawn care tips!

Summer's coming, and soon everyone will be inviting their friends over for barbecues and garden parties. If you want to get your lawn ready for the hottest time of the year, here are some pointers from the Lawn & Weed Expert team:
Mowing the grass during summer
In the summer grass can grow very rapidly, so it's recommended that you mow your lawn
once or twice a week
to stop it looking unruly and to encourage good grass health. Read our
lawn mowing tips
for more information.
It's important to remember not to mow the lawn if the grass is wet as this may damage the soil and roots beneath. Also, refrain from cutting it too short as this will weaken the grass and make it more vulnerable to weeds and other invaders.
Watering your lawn in the summer
Even in the UK, there is less rain during the summer months than the winter months. If grass goes too long without water, it will stop growing and begin to turn brown, so be sure to keep your lawn hydrated!

Most of the time, there'll be enough rain to maintain your lawn's health without any intervention from you. But pay attention to the weather and be ready to water your lawn during extended rain-free periods.
Fixing a hard, dried out summer lawn
You might notice the ground in your garden turning hard if it hasn't been watered for a while. If this happens, give the soil a thorough spiking with a garden fork before putting any water on it – this will enable the water to seep into the soil and hydrate it rather than just running off.
Summer lawn pests
It's nice to be outdoors during the summer, but one downside is that there are more bugs around than at any other time of year. This can cause problems for your lawn (as well as ruining any picnics you might have planned). Common summer pests include:
Ants - When ants build their nests in your lawn, it can cause damage to the root system. Their mounds can also make mowing more difficult, especially if the blades get caught. To remove ant mounds safely, sweep them away or pour hot, soapy water over the area.
Bees - Bees are beneficial to gardens in general, but they can cause holes in your turf. However, even this can be a benefit: the holes created by miner bees can improve soil ventilation.
Grubs - Grubs can be a reoccurring problem for your lawn, so if you had an infestation last year it's wise to be cautious and keep your eyes peeled. If you suspect you have grubs, we recommend our specialist chafer grub control service. These pests will happily munch through your grass roots all summer if they're left to their own devices.
Summer Lawn Care FAQs
How often should I water my lawn in summer?

Be careful not to water your lawn too frequently in the summertime (or at any other time of year, for that matter). Watering too often will result in a shallow root system, meaning that your turf will be weaker and dry out more quickly. Overwatering can also encourage weeds, moss and diseases to flourish during summer.

Limit watering to twice per week to encourage deep root penetration. Water in the morning when the air is cooler – if you water your lawn on hot summer afternoon, the water may simply evaporate away before it has time to penetrate the soil, and watering in the dark, cold evenings can encourage fungi growth.
How do I choose the right lawn mower?