Autumn Lawn Feed and Weed
The combination of warm weather and damp conditions that we experience in the autumn months can leave your lawn particularly vulnerable to seasonal
lawn diseases
.
As part of the
autumn lawn feed and weed
service provided by Lawn & Weed Expert, one of our professionals will check your lawn for these diseases, as well as applying our tailor-made autumn lawn fertiliser.
It's a common misconception that a single lawn feed can be used all year round, but that's not the case. Spring and summer lawn feeds are often high in nitrogen to promote top growth, which is soft and easily damaged by frosts – not ideal for autumn and the coming winter months! This can also leave your lawn even more vulnerable to the pests and diseases that plague the colder, darker months. Our autumn lawn feed is specially-formulated to leave your lawn strong and prepared for autumn and winter weather.
READ MORE:
Autumn Lawn Diseases
Autumn is also a key time of year to start thinking about
moss control
. Moss is the biggest problem faced by the majority of UK lawns, particularly those on clay soils.
Our autumn lawn treatment includes:
Checking for common lawn diseases, such as red thread disease
Initial moss control to kill any developing moss
Application of broad-spectrum liquid herbicide to control any new weeds
Application of low-nitrogen, potassium and phosphorous-rich fertiliser to encourage root development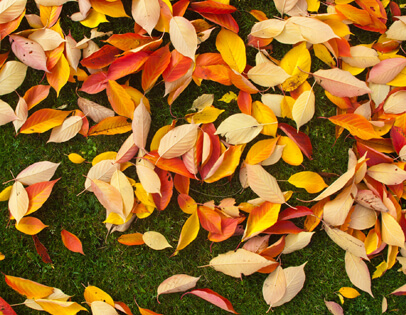 Our Autumn Lawn Feed & Weed
Damp lawn conditions in the autumn and winter months can leave your lawn susceptible to pests and diseases. Applying autumn lawn feed gives your lawn an essential nutrient boost, allowing it to strengthen itself in preparation for the harsher seasons.

When is the best time to apply autumn feed?

September and October are the best months for applying autumn lawn feed. It gives your lawn plenty of opportunity to absorb the nutrients and build up its strength for the coming months. If you leave your autumn feed too late, it can often be too far in the season for your lawn to adequately absorb the nutrients it needs to grow strong.

Applying autumn lawn feed can be a delicate process – if done incorrectly, it can have negative effects on your lawn. For example, applying excessive amounts of fertiliser can cause nitrogen and salt levels in the soil to increase, potentially damaging or killing your lawn.
Autumn Lawn Care Advice
Our tips for keeping your lawn healthy during the autumn time (late August to November in the UK).

Autumn is a vital time for your garden lawn. You should use the last months of the growing season to prepare your grass for the stresses of winter – this preparation should improve the health of your lawn throughout the colder months and into the following spring.
The ideal approach can vary from one garden to the next, but here are some of the autumn lawn care treatments we frequently recommend at this time of year: