Top Dressing Lawn Services in South Wales
A good
top-dressing
service can be vital in making long-term improvements to the health and appearance of your lawn.
The soil in your garden plays a major part in the development of your lawn. Thin, sandy soils (common in coastal areas like Porthcawl and Ogmore) and heavy clay soils (such as might be found in the northern parts of Cardiff) are not ideal for lawns, but a good top dressing can alter the nature of your top soil and significantly improve the growing conditions. The right mixture of top dressing will complement and gradually change the properties of your existing soil.
The benefits of applying top dressing or using a top dressing service includes:
Increase soil aeration
Improve surface drainage
Protect newly seeded areas of your lawn
Control & reduce the overall build-up of thatch
Fill in joists between newly laid turf
Encourage greater rooting
Stimulate grass growth
Specialist lawn top dressing service for your garden
Top dressing is labour-intensive work, and sourcing the right kind of top dressing can be difficult and expensive once you factor in delivery costs. To cover 1 square metre of soil, you'll need approximately 5kg of top dressing. Grass seed can also be added to thicken up the lawn.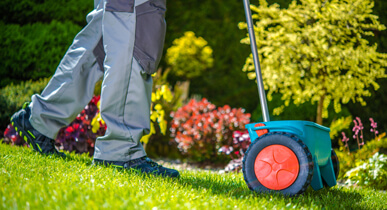 Top Dressing FAQs
When should I top dress my lawn?

You should aim to top dress your lawn whenever you need to repair holes or uneven patches prior to the growing season, which is usually at the beginning of spring. You shouldn't top dress your lawn in its dormant phase, as this may end up damaging your lawn further or even killing it entirely.

What is the best top dressing for lawns?

The most common top-dressing options are sand, topsoil similar to your existing soil, high-quality compost, or a custom mix of blended materials. Sand is often coupled with heavy clay soils to improve the lawn's drainage.

How should I apply top dressing to my lawn?

You should always apply your top dressing around your lawn in small, convenient piles where it is easier to shovel and spread around with a rake or soil leveller. Sometimes it is best to work on one small section of your lawn at a time, as your judgement may not be exact.