Lawn Fungus Treatment
Fungal pathogens can cause a variety of turf diseases and mould. Fine-leaved grasses (such as bents and fescues) are more susceptible to lawn fungus than rye grass species.

Lawn & Weed Expert offer a variety of fungus and mould treatments for lawns in Cardiff, Newport, Swansea and across South Wales. Here are some of the problems that we can help to eradicate:

Mushrooms & Toadstools
Fungi are nature's dustmen, converting dead organic matter into basic nutrients that re-enter the food chain and are eventually recycled. The appearance of a few mushrooms or toadstools on your lawn is a healthy sign – it means that fungi in your soil are active and breaking down (for instance) an old, buried tree root. The fungi that appear on the surface contain spores which are released into the atmosphere.

However, if your lawn has a heavy concentration of toadstools, a professional lawn fungus treatment programme may be necessary.
Snow Mould
Snow mould occurs during cooler times of year. Brown patches appear first, and these are followed by a fluffy white growth.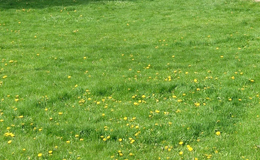 Fairy Rings
Fairy rings are easily identifiable by the circle of lush green growth surrounding an area of dead brown grass. The appearance may differ somewhat depending on the type of fungus responsible for the fairy ring.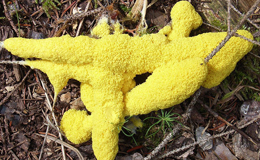 Slime Mould
Slime moulds usually appear on dead grass. They feed on dead organic matter.