Garden Turf Laying Services in South Wales
High-quality lawn turf, laid by your local experts.

If you are landscaping a new garden, replacing a flower bed or switching from paving to an attractive turfed area, Lawn & Weed Expert's turf layers are the people to call! We offer both domestic and commercial turf laying services and we'll do our best to accommodate your project and give you the best possible results.

Our professional turf laying and free lawn survey services are available in most parts of South Wales, including:
Cardiff
Swansea
Newport
Bridgend
Vale of Glamorgan
Rhondda Cynon Taf
Merthyr Tydfil
Caerphilly
Neath Port Talbot
Monmouthshire
Call 0800 111 4958 to request a free, no-obligation quote for Lawn & Weed Expert's professional turf laying services.
Laying Turf: Why Choose Us?
Lawn & Weed Expert have more than 20 years' experience in the garden turf field, and we offer a variety of professional turf laying services for your outdoor space. We can help you select the right turf and lawn care treatments so you can make the most of your new and improved garden!
Many people believe that choosing artificial turf is the best way to keep their lawn looking great all year round, but we urge you to think carefully before you buy.
A lot of artificial grass on the market will become bleached by the sun's rays over time and will turn an unappealing yellow colour. At this point, you will need to completely re-turf your lawn again!
When you choose our real grass turf and care for it properly, you can keep your lawn looking natural, fresh and green all year round. We even offer
seasonal lawn treatment programmes
to help you keep your new turf looking its best. Find out more about our turf laying services below.
Our Turf Laying Services:
We supply and deliver turf throughout South Wales, and lay hundreds of square metres of turf each year.
Quotations for our turf laying services are easy to understand, free of charge, and come with no obligation.
We can arrange a seasonal lawn treatment programme for you.
If we think you could save money by repairing your existing lawn rather than laying new turf, we will tell you so.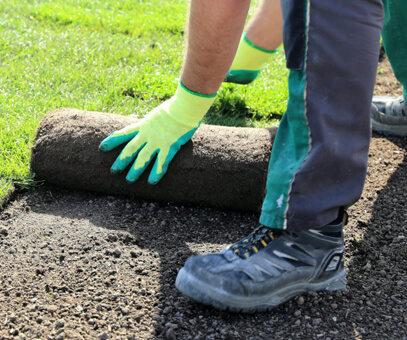 Our turf laying services don't end here! Our turf layers have written some interesting blogs to help you learn more about the turf laying process. Click the buttons below for more information.