Professional Lawn Fertiliser Service
There are thousands of lawn fertilisation options available for your garden. These range from the basic weed, feed and moss killer combinations sold in garden centres to the sophisticated feeds used by professional groundskeepers to look after the turf at sports venues like Wimbledon and Lord's.

Here at Lawn & Weed Expert, we use lawn fertiliser products that are exclusively available to industry professionals. We provide a comprehensive range of lawn fertilisation services to help you keep your lawn lush and green, and where necessary, we discuss our requirements with manufacturers to get the best lawn fertilisation results for our customers.
Keeping your soil rich in nutrients
The nutritional essentials of turf care are much the same whatever feed is used. Nitrogen, phosphorous and potassium – combined with a range of trace elements such as magnesium and sulphur – are all required to give your lawn the balanced nutrition it requires. Moisture, acidity and alkalinity are key considerations too.

Lawn & Weed Expert's lawn fertilisation service ensures that your lawn gets the right balance nutrients for the right time of year.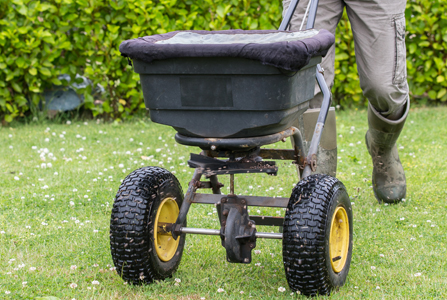 Nitrogen in various forms is essential to promote leaf and stem growth and keep your grass green. However, too much nitrogen will give you too much top growth, and your lawn will eventually develop a spongy thatch that may necessitate heavy scarifying.

Potassium is crucial for improving the overall health of the grass.

Trace elements such as iron, magnesium, manganese and sulphur can also play a major part in boosting the health and appearance of your garden lawn.
When it comes to lawn fertilisation, you get what you pay for. Cheap feeds are markedly less effective than professional-grade lawn fertilisers. Some feeds can
scorch the lawn
if weather conditions are wrong; other feeds simply wash (leach) right through the soil after a heavy rain shower.
Lawn & Weed Expert use controlled-release lawn fertilisers that act gradually, steadily feeding your lawn with the correct variety of nutrients. This contributes to the health and appearance of your grass while also helping it to withstand the extremes of cold, heat and drought that it may experience over the course of the year.
Lawn Fertiliser FAQs
What is the best fertiliser for lawns?

When should I fertilise my lawn?

Always read the directions on your chosen fertiliser before use – this will help you to apply it at the correct time. We recommend feeding your lawn three times a year: early spring, early summer (before the weather turns too hot) and mid to late autumn.

READ MORE: When to Feed Your Lawn

Should I fertilise before or after mowing?

You should always fertilise your lawn AFTER mowing it. Allow at least two days after mowing before you add any fertiliser. After feeding your lawn, wait a week before mowing again.