Chafer Grub Control for Lawns
Do you have chafer grubs in your lawn? Want to get the problem under control?
Here at Lawn & Weed Expert, we provide a specialist
chafer grub treatment
service for outdoor spaces in Cardiff, Swansea, Newport, and the surrounding areas.
Chafer grubs are – fortunately – not a huge problem in South Wales due to the heavier clay soils we have here. However, lawns laid on sandy ground may be prone to damage from chafer grubs; the same goes for gardens in sandy light-soil areas such as Ogmore and Porthcawl. If your garden is susceptible to chafer grubs, it's important you keep a close eye on your lawn to spot early signs of an infestation.
Give us a call today on
0800 111 4958
– we can provide a free, no-obligation survey to assess your chafer grub control requirements.
SEE ALSO:
Common Types of Lawn Grub
Signs of Chafer Grubs in Lawn
Brown Areas on Lawn Damaged areas can rapidly increase in size as the lawn grubs continue to eat away at your lawn. In some cases, the damage is so great and so rapid that it is possible to lift entire sections of turf off the ground because the grass roots have become completely disconnected.
Birds Looking for Food Birds pecking at your turf may mean that you have a chafer grub infestation. The grubs are a popular food source for birds, and even other types of wildlife like foxes and badgers may be interested in feasting on your lawn's chafer grubs. Letting predators eat the grubs will not necessarily control their numbers, always seek the help of grub control specialists.
More Damage in Summer Damage to your lawn will increase as the chafer grubs grow larger and increase in number over the course of the summer. The lawn grubs prefer sandy soil and will burrow in deeper during periods of cold weather. Keep an eye out for these seasonal patterns.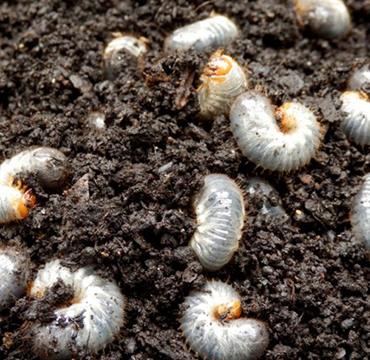 Chafer Grub Treatment Methods
Chafer grub control is relatively simple and inexpensive, but it can be difficult to find a specialist capable of providing it. The appropriate pesticide must be applied by a competent professional, and once applied, the pesticide is usually fully effective within 72 hours.