What causes lawn moss?
Lawn moss is usually caused by a combination of excessive moisture in your lawn and weak grass, and as such, it usually becomes a problem in the autumn and winter months. If you've found yourself with a moss infestation on your lawn, you must identify why it is growing and tackle that underlying cause in order to prevent the moss from returning. Most moss killers sold in shops are totally unable to do this, so it's far better to rely on Lawn & Weed Expert's specialist moss treatment service.
Lawn moss control
Moss is probably the single biggest problem for lawns in the UK, but the good news is that moss is easy to kill! Especially with the highly effective iron sulphate moss treatment we use, designed to target lawn moss whilst leaving your grass healthy and strong.
To book your lawn moss treatment, give Lawn & Weed Expert a call on 0800 111 4958. Our moss control service is available in Cardiff, Newport, Swansea, and most other locations across South Wales.
Removing moss from your lawn
Dead moss is fibrous, and unlike dead weeds (which are mostly made up of water), it will not just wither and shrivel away following moss treatment. Instead, it turns into thatch – which does not decompose.

Dead moss must be raked and removed from the lawn, and heavy moss may require scarifying or verti-cutting. If dead moss is allowed to stay on the lawn and turn to thatch, it will stop moisture from reaching the grass roots where it is needed. Thatch also creates damp conditions that are ideal for allowing more moss to develop.

Lawns should not be raked / scarified without applying moss control first. You can end up simply spreading the moss spores and making things worse. Be sure to call in a moss control expert to take care of your dead moss for you.
Preventing lawn moss
Keeping your lawn dry and your grass strong is a great way to prevent moss from being able to grow – our seasonal treatments, particularly our
autumn lawn treatment
and
winter lawn treatment
, can strengthen your lawn and help defend against lawn moss.
How to prevent future moss growth
In order to stop moss from reappearing on your lawn, you will need to identify and address the underlying cause. Here are some conditions that can encourage moss to grow:
Warm, moist weather conditions – These are increasingly common in South Wales and the rest of the UK.
Compacted, poorly-drained soil – Heavy soils will become compacted and need to be hollow-tine aerated to reduce the effects of the compaction. Once every 2-3 years, soil can also be top dressed with a 70% sand loam mix to improve soil ventilation.
Lawns thick with thatch – As mentioned above, excessive thatch can create damp conditions that are ideal for moss.
Scalping / cutting the grass too short – This significantly reduces the health of the grass, weakening it and allowing moss to move in.
Not watering the grass in the dry summer months – Again, this can weaken the grass and make it vulnerable to moss.
Clay-based soils – Clay soils are prominent in the South Wales area, and unfortunately, they are quite favourable for moss!
Shaded or poorly-ventilated lawns – This can make it difficult for grass and soil to properly dry out.
Poorly-fertilised lawns with weak and spare grass – Moss is often present on such lawns.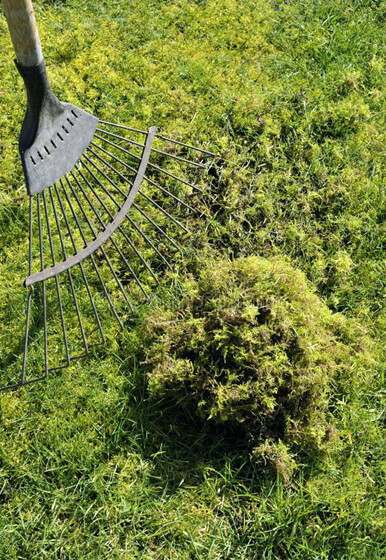 Our moss control treatment services are available in most parts of South Wales, including:
Bridgend
Caerphilly
Cardiff
Merthyr Tydfil
Monmouthshire
Neath Port Talbot
Newport
Rhondda Cynon Taf
Swansea
Vale of Glamorgan
Moss Control FAQs
What causes lawn moss?

Lawn moss is a sign that there is an underlying problem with your lawn. Moss may be a symptom of acidic soil, poor drainage or a lack of fertiliser.

Is moss bad for your lawn?

Moss will not overtake or kill your lawn; instead, it will fill the spaces where your lawn is thin. If your lawn is struggling and you notice moss growing in the weak spots, this indicates that you have a deeper issue such as compacted soil, poor drainage or a lack of sunlight.

When should I book a lawn moss treatment?

The best time to treat your lawn for moss is during late spring / early summer OR late summer / early autumn. Moss control should always be completed before you re-seed your lawn, which is best done in the early autumn.

What's the best way to control lawn moss?

Our moss control service begins with applying chemicals that are designed to kill the moss. Once the moss has died, a thatch-like material will be left behind on your lawn; this will need to be raked away or scarified.

READ MORE: How to Deal with Moss in Lawns