Lawn Weed Control in Cardiff & South Wales
Weeds can be quick to colonise large parts of your lawn and spoil its once-lovely appearance. Off-the-shelf weed killers may seem effective at first, but unless you address the conditions that allowed for weed growth in the first place, those weeds will soon grow back!
Here at Lawn & Weed Expert, we have many years' experience providing elite, lasting lawn weed control across Cardiff and the wider South Wales area.
Get in touch today
for a FREE weed survey.
Cheaper than removing weeds yourself
Our lawn weed control service doesn't just treat the visible part of the weed – it also tackles the conditions that promote weed growth. As experts in our field, we can devise a weed control plan for your garden that goes on working where other treatments fail, saving you a lot of time and money in the long run.
Here are some of the weeds that we can remove from your garden lawn:
Japanese knotweed
Dandelions
Speedwell
Plantains
Clovers
Celandine
Field wood rush
Couch grass
Yarrow
Mare's tail
Nettles
Brambles
Ragwort
Daisies
Buttercups
Dock
Ground elder
Bindweed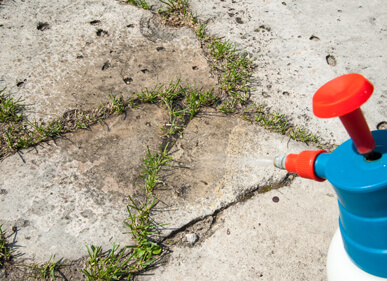 How our lawn weed control service works
We kill weeds using broad-spectrum systemic herbicides that are safe and highly effective. Our weed control products are not available to the general public as they contain specific active ingredients (such as mecoprop, dicamba and 2,4-D) not usually found in retail products.
Common weeds such as daisies, buttercups and dandelions are usually controlled after a single application
Certain weeds – like yarrow, field wood rush and celandine – require more than one application.
Repeat applications will also control new weeds that grow from seeds carried by birds or the wind (as well as those that were previously dormant in the soil).
Weeds are approximately 70% water and will usually decompose completely within 14 days of a Lawn & Weed Expert treatment.

Herbicides are usually best applied during periods of vigorous grass growth – such as spring, summer and late autumn – when weeds are growing as well.
How to control weeds in lawn
If you're looking for tips and advice on how you can control weeds in your lawn, Lawn & Weed Expert are more than happy to share our expert knowledge!
When is the best time to apply weedkiller to lawn weeds?
When it comes to lawn weed control and killing weeds in your lawn without harming your grass, the best time to apply weed killer is when the weeds are in their 'fast-growing stage'. Like most plants, typical garden weeds grow the most during spring and into summer. That means the best time to apply weed killer is between May and June.
Should I apply weed killer?
If you're planning on treating your lawn weeds yourself, there are a few questions you need to ask yourself before you start applying weed killer.
When was the last time you fertilised the lawn?
Before applying weed killer, you should make sure the lawn has been properly fertilised. This helps to ensure that the grass that remains has plenty of nutrients to continue growing strong & healthy. Give the fertiliser a couple of days to kick in before you apply weedkiller.
How's the weather?
Weed killer works best on soil that's slightly damp, but not wet. If it's just rained, or is due to rain over the next day or two, postpone your weed killer application for a couple of days. Excessive water will dilute your weed killer, making it less effective. Similarly, avoid applying weed killer if it's freezing cold or scorching hot. You ideally want mild weather conditions to apply weed killer.
When was the last time you mowed your lawn?
Applying weed killer to a freshly cut lawn is not ideal. It's best to apply weed killer to weeds that have had a chance to start growing back, so that more the plant comes into contact with the herbicides. We would recommend leaving your lawn for 2 to 3 days after cutting before applying an herbicide. Following the application, you should not cut your lawn for at least a week. This gives the weed killer chance to penetrate the soil properly without being disturbed.
Applying weed killer can be a lot more complicated than people think! If you're not confident in weed killer application and are looking for professional assistance, we're always happy to help! Reach out and
contact us
today to arrange your FREE lawn survey, or to schedule your lawn weed control treatment.
Weed Control FAQs
What is a weed?

According to the dictionary, a weed is a wild (i.e. not deliberately cultivated) plant growing in a place where it isn't wanted. So technically, ANY plant can be called a weed if it's growing in the wrong place.

READ MORE: What Makes a Plant a Weed?

How do weeds grow so fast?

Weeds compete for all of the same resources as other plants: sunlight, water, nutrients and space. Weeds are often able to gather these nutrients before other plants, so they tend to grow faster.

Do weeds grow back?

Just like the plants you intentionally grow in your garden, a weed may be classed as annual or perennial. Annual weeds sprout, grow for a single year and then die; perennial weeds establish deep roots and continue to grow year after year.

Learn more about annual and perennial weeds here.

How do I get rid of weeds in my lawn permanently?

If you have a recurring weed problem in your lawn, it's possible that your at-home weed control methods aren't cutting it (no pun intended). Weeds can be pretty persistent, so the best weed control method to ensure that you get rid of the weeds in your lawn permanently is to opt for professional lawn weed control services.

Lawn & Weed Expert Offer top-of-the-line weed control services specially designed to take care of the problem first time around.