Professional Lawn Scarification Service
Scarification is an essential part of any lawn maintenance programme. Without it, your lawn will be highly susceptible to diseases caused by natural bacteria in the soil.
At Lawn & Weed Expert, we have more than 20 years' experience helping customers across South Wales to keep their lawns in tip-top condition. We use state-of-the-art garden scarifying equipment to ensure that your grass stays healthy all year round.
Our professional scarification service is efficient, affordable, and highly effective. Contact us today for a FREE lawn survey.
What is scarification?
Scarification is the process of pulling dead moss and thatch out of your garden lawn. This used to be done using a wire rake, but thanks to modern technology, we now use powered machines that get the job done more efficiently and more thoroughly. In the short term, scarifying your grass will actually make your lawn look worse, but once it recovers it should be far healthier than before.
Lawn scarification should be strategically scheduled to ensure that it is followed by favourable weather conditions that assist with the lawn's recovery.
Moss control
should be carried out 2-3 weeks in advance, as lawn scarification could end up spreading moss spores across the lawn and making things worse than before.
It's a good idea to scarify your lawn every 2-3 years at minimum (depending on soil and weather conditions), but the specialists from Lawn & Weed Expert will advise you on the best course of action for your particular garden.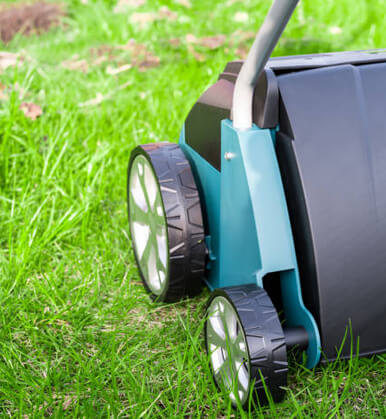 Our Scarification Service:
This lawn will soon be revitalised thanks to our professional scarification service. We scarified it, seeded it and top dressed it. All that's required now is regular watering and this lawn will be luscious and green in no time!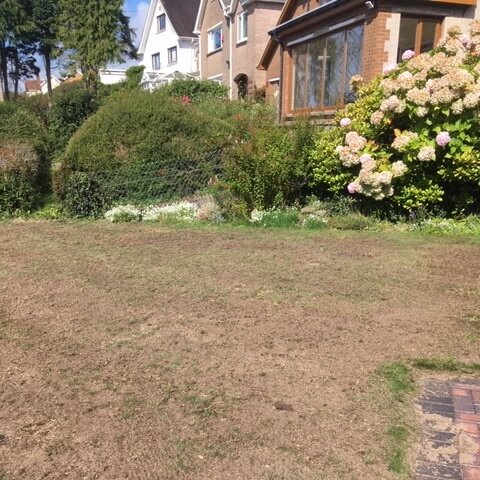 Our professional scarification service is available in the following areas:
Cardiff
Swansea
Newport
Monmouthshire
Vale of Glamorgan
Neath Port Talbot
Rhondda Cynon Taf
Merthyr Tydfil
Bridgend
Caerphilly
Don't worry if your location isn't listed above – our lawn scarification specialists can travel to most parts of South Wales. Email
sales@lawnweedexpert.co.uk
to request a quotation.
Why is scarification important?
If dead moss and grass stalks are left undisturbed on your lawn they will turn into thatch (a build-up of dead organic matter that lies on the soil surface). Thatch prevents the flow of moisture to the grass roots, and can thus end up weakening and even killing the grass in your garden. During wetter periods – i.e. autumn and winter – it can also create damp, humid conditions that encourage moss growth and promote grass diseases and fungus.

Vigorous lawn scarification will remove thatch from your lawn and allow the grass underneath to grow normally again. If your lawn feels thick and spongy, scarifying your garden may be necessary to remove the layer of thatch.
Find our more about lawn scarification
If you're still not 100% confident that our lawn scarification services are right for you, or if you're unsure whether it's the right time of year to make an enquiry, you might find the following information helpful.
Take a look at our insightful blog about the
best time to scarify your lawn
or find out what previous customers thought of our lawn scarification services by
reading a case study
.
Scarification FAQs
When should you scarify your lawn?

The best time to scarify your lawn is during the spring or autumn. You mustn't start scarifying too early in the spring, as the grass needs to be growing back nicely before you start.

READ MORE: When to Scarify

How deep should you scarify your lawn?

For a well-managed lawn, the cutting depth is around 3mm; for an unmanaged lawn, it is around 5mm. It is better to scarify your lawn every three weeks or so at around 3mm deep.

What is the difference between raking and scarifying?

Lawn raking, whether you choose to use a raking machine or spring-tine rake, is the process of removing moss from the lawn. Scarification, however, helps to eliminate the cause of moss – surface thatch – using heavy duty flails (knives).